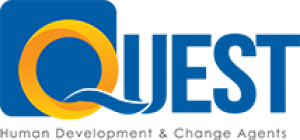 تفاصيل وظائف Content Writer فى شركة Quest
تفاصيل وظائف Content Writer فى شركة Quest
Proposal & Content Writer for Quest
About us
Our story is a journey of growth, discovery, sharing and rebirth. Born out of a passion for people; Quest is on a mission to help organizations develop their people in such a way so as to foster harmonious and efficient work environments. Quest operates with international corporate standards, a deep understanding of the local market, and is fueled by ingrained family values. Along this journey, we have grown in knowledge, bonded as a family and evolved into a beacon of learning, and the heroes of our story are our people and our clients.
Our people, are the driving force of our success, A group of highly competent professionals come together everyday with one aim and that is to provide our clients and participants with an outstanding development experience by creating long-term partnerships with our clients; fulfilling their basic needs as a minimum, and covering their total scope of human development requirements as a goal.
Job Description
Proposal Writing:
Review requests for proposals (RFPs) or requests for information (RFIs) requirements
Proposal development, including drafting, editing, assembling, and submitting proposals
Ensure proposal submissions are compliant with applicable RFP/RFI instructions and that they comply with company proposal best practices
Assist with non-technical portions of the proposal, including elements of the cover letter, executive summary, firm history, narratives, etc.
Monitor submitted proposals, tracking both successful and unsuccessful ones
Maintain and organize proposal files and proposal library
Proofread and edit documents for style, consistency, grammar, and syntax, and if necessary, re-write to clarify and simplify the text
Adhere to and reinforce proposal development processes, templates, guidelines, and deadlines.
للتقديم علي طلب توظيف خاص بمجالك من |هنا
Digital Marketing:
Maintain all Quest social media channels
Maintain campaign reporting, metrics, and site analysis
Design digital media campaigns aligned with business goals
Work to improve Quest brand presence
Liaise with Commercial and Technical teams to ensure brand consistency
Regularly track and get insights into competitors' strategies
Oversee day-to-day activities of company affiliates
Assist in conducting marketing test campaigns using Survey Monkey.
Assist with developing project company profile, sales presentations and marketing materials
Maintain an awareness of industry news, best practices, and trends
Attend networking events and conferences as needed
Other duties and projects as assigned.
Job Details
Education Level:
Not Specified
Salary:
5000 To 7000 EGP Per Month
للتفاصيل والتقديم | من هنا
لأحدث الوظائف وايام التوظيف المفتوحة تابع قناة شغل علي تليجرام من هنا
وظائف قد تهمك ،
》اعلان وظائف شركة طيران الإمارات
》وظائف استقبال فى صيدليات Hikma
》وظائف ادارية فى بنك مصر
》وظائف محاسبين فى شركة AZLink
》وظائف خدمة عملاء فى Dawi Clinics
للتقديم علي طلب توظيف خاص بمجالك من |هنا